Aquaculture is a priority sector in Mozambique, Namibia and South Africa. In Mozambique, the focus is on strengthening the domestic tilapia market as a first step in moving towards export capacity, and to increase women's participation in the value chain. In Namibia and South Africa, the focus is on the high-end seafood sub-sector, a market that has been particularly hard hit during the COVID pandemic and the resulting lockdowns of restaurants. Growing export trade in the aquaculture sector has significant potential to alleviate poverty, as small-scale producers in rural and poorer areas have the opportunity to increase their trade.
TFSA works with leading industry association, AMAQUA in Mozambique to increase its membership and to provide members with an advocacy strategy and talking points aimed at developing the local feed industry. In Namibia and South Africa, priority areas include strengthening local laboratories' testing capacities, linking the industry to markets, and to prepare producers meet complex export requirements, with a focus on the European market.
Read this article to learn more about the challenges aquaculture producers face and how TFSA support and services are addressing these.
Business support partners in aquaculture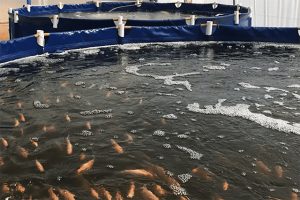 By adopting the "basic building block" of tilapia farming, producers across Africa can establish and scale operations in both urban …